Felicity
Hi! Tofu For Thought was my passion throughout high school, and it was always something I was super proud of. These days I'm a college student, so I eat at dining halls (really well, I might add!) rather than cooking for myself.
I'm 20 and grew up in North Carolina, but I am a student in California studying linguistics. I am experimenting to figure out how to deal with my IBS. I have a problem with the stigma around the label 'vegan', so I don't tend to flaunt the term. Instead, I tell people I am a picky eater, because that's the real truth for me.
Also, you should know I generally consider myself vegan (no meat, dairy, eggs, or honey), but when I'm at home, I do sometimes
eat the eggs
from my backyard hens. It's okay if you don't approve; sometimes I don't either.
---
---
Joseph (my guest blogger & brother)

Hey there! I am Joseph, the awesome brother of Felicity. I am rising senior in high school, and I enjoy art, mushrooms, terrariums, and of course television. I spend most of my day either on social media or watching television. I am super into LGBTQ+ rights and all forms of equality. I'm also a passionate doodler and interested in Fair Trade. I spend a lot of my free time volunteering as well. I am not much of a 'foodie' or a cook but I do have some recipes I am known for around my house. You'll get to see them popping up here on this blog every once in a while. Hmm... that's all for now. :) Peace out, people!
---
Joseph's favorite things:

favorite fruit

: blueberries

favorite book

:

Before We Were Free

by Julia Alvarez

favorite movies

:

Guardians of The Galaxy

and

Inside Outfavorite song

: "Holy Ghost" by BØRNS

favorite subject to study

: English

secret talents

: clumsiness, fanboying, doodling, acting, and teaching

Links to Joseph's recipes:

---
| | |
| --- | --- |
| NOTE: The views expressed on all pages of Tofu For Thought are mine (Felicity's) only, and I do not try to speak for anyone but myself and from my own experience. Take everything I say with a grain of salt, since I lead a specific and privileged life, and I am still relatively new at blogging. If there is something I say in a post that you have questions about or concerns about how it could fit into your life, please contact me. I am always happy to make new internet friends! | |
Powered by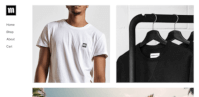 Create your own unique website with customizable templates.